Playtime is not just a fun time for your child. It is also about making memories for both parent and child. You probably know that play contributes immensely to your child's physical and mental development. But did you know playing with your child leads to stronger bonds and connections?
Kids learn more through play
Kids love repetition. How many times have you seen that same movie or show over and over because they love it so much at the time? Or the same board game or song that they never get sick of?
Children learn during play, even repetitious play. Even if they are having fun, the time spent engaging in the activities helps them grow and develop their motor, social and problem-solving skills.
Furthermore, it shapes how you interact with the child and fine-tune the way the child sees things.
In this article, we explain why the act of play contributes to bonding and how you can make it a more memorable experience for you both.

You become an active role model
Playing with your child sends the subtle message that you value their presence and are willing to spend quality time with them.
We know kids are great imitators. And as such, you can use playtime to help them build soft skills like teamwork, sportsmanship, and incredible work ethic.
They develop motor skills
Physical literacy is a fundamental piece of a child's life. Every child should develop physically and playing helps them to do just that.
As a parent or carer, it is an awesome feeling to be part of this growth process. It is a great time to keep a close eye on your child and connect with them.
Even if they may not become super athletes, motor skills are lifelong skills your kids will need to develop.
Children love to play, they play so much we often think that's all they do — and that's a good thing.
So get down and dirty, forget the washing and take the time to join your child in some play.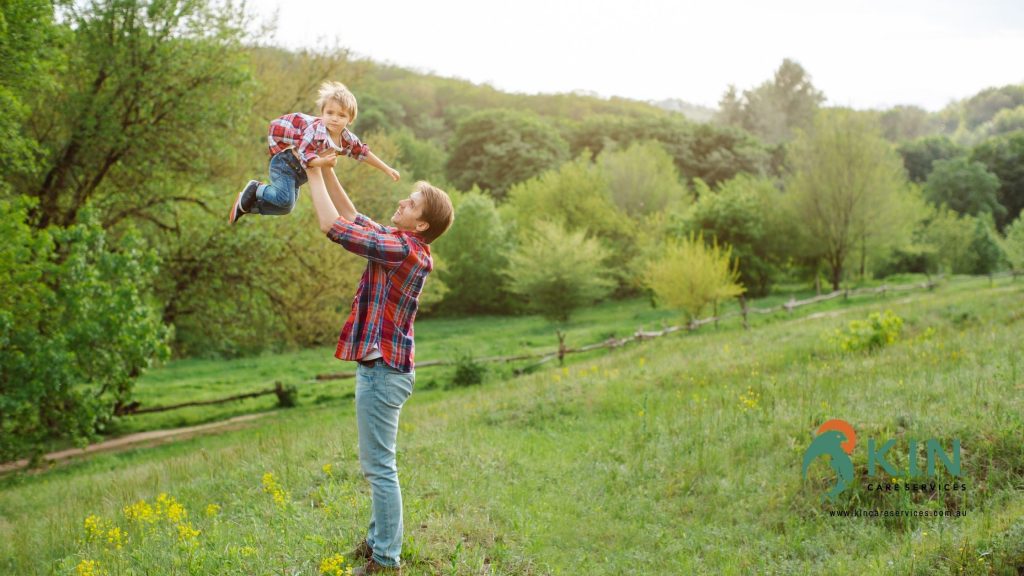 For more parenting support and tips, you can reach out to K.I.N. Care Services.
K.I.N. Care Services have a team of dedicated professionals available to provide individual and family therapy and counselling to children, young people, families, and participants engaged with our program.  Our services include:
Individual and Family Therapy
Individual and Family Counselling
Individual Counselling – Eating Disorders
Narrative Therapy
Dialectical Behaviour Therapy (DBT)
Equine Therapy (Individual and Group Sessions; Sunshine Coast location)
Theraplay (designed for children and their primary caregiver)
You can reach out by calling 0431 767 881 or send an email to dee@kincareservices.com.au.